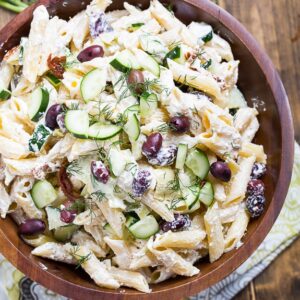 Servings: 8 
1 (7-ounce) container low-fat plain greek yogurt 
1/3 cup mayonnaise, or sour cream 
1/4 cup feta cheese 
1 clove garlic, chopped 
1 teaspoon red wine vinegar 
1 teaspoon lemon juice 
1/4 teaspoon kosher salt 
1/4 teaspoon black pepper 
2 tablespoons extra virgin olive oil 
12 ounces penne pasta, cooked to al dente and drained 
2/3 cup Kalamata olives, pitted 
1 small cucumber, unpeeled, quartered and sliced 
1/4 cup red onion, chopped fine 
1/2 cup feta cheese 
2 tablespoons chopped fresh dill 
In a bowl, stir together greek yogurt, mayonnaise, 1/4 cup feta cheese, garlic, red wine vinegar, lemon juice, salt, pepper, and olive oil. 
In a large bowl, combine pasta, olives, cucumber, and onion. 
Pour dressing over pasta mixture and toss to coat. Season to taste with more salt and pepper.