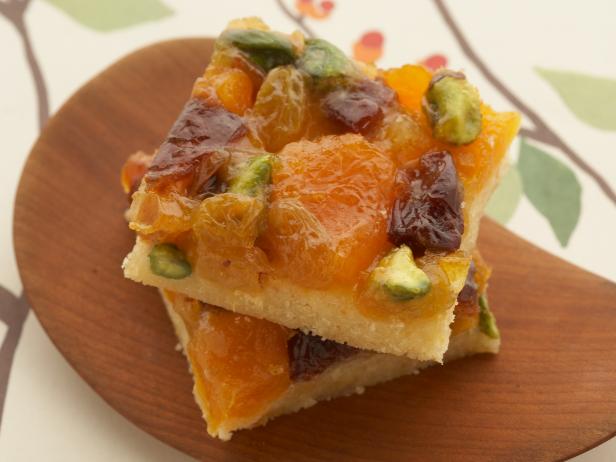 COOKIE 
2 cups flour 
1/2 teaspoon baking powder 
1/4 teaspoon fine salt 
1 cup unsalted butter, soft but cool 1 cup sugar 
1 large egg 
1 1/2 teaspoons vanilla extract
FRUIT 
1 1/3 tablespoons cornstarch 
1 1/3 tablespoons sugar 
1 cup orange juice 
1/2 cup dried apricots, coarsely chopped
1/2 cup dried dates, coarsely chopped
1/2 cup dried cherries, halved 
1/2 cup raisins (dark or golden) 
3 tablespoons candied orange peel (or: 1 T. orange zest and 2 T. orange marmalade)
1/2 cup roasted and salted or plain pistachios 
1 1/2 teaspoons finely grated zest (from 1/2 lemon) 
Preheat oven to 375F (350F for Convection). Coat a 9 x 13 baking pan with cooking spray and line bottom with parchment paper, leaving extra paper on sides to lift out baked cookies.
FOR THE COOKIE: 
Whisk together flour, baking powder and salt in a small bowl. Cream butter and sugar in a large mixer bowl at medium speed about 2 minutes until creamy. Scrape down the sides and add the egg and vanilla extract. Beat well, and then scrape down the sides. While mixing on low speed, add the dry ingredients in 3 batches. Scrape down the bowl between each addition, and mix until just blended. 
Transfer the dough to the prepared pan and spread evenly with a spatula. Bake until light golden brown with spots of darker golden brown and darker edges, about 15 minutes. Cool slightly. 
FOR THE FRUIT 
Whisk the cornstarch and sugar together in a small saucepan. Whisk in orange juice until mixture dissolves. Stir in the fruits and candied orange peel. Bring to a simmer over medium, stirring often; continue to cook, stirring until thickened into a compote, about 3 minutes more. You should be able to draw the spoon along the bottom of pan and see the pan with no liquid seeping back. Remove from heat and transfer to a bowl. Stir in the nuts and lemon zest. Spread fruit evenly over the top of the cooled crust. 
Heat oven to 325F convection. Bake mazurkas until golden brown around edges and fruit sets but is still slightly glossy and jewel-like, about 10 minutes. Cool in pan on rack. 
Cut, using an oiled knife, into 24 bars. Serve.
For make ahead and storage: When double-wrapped, the cookie base keeps at room temperature for 3 days or frozen for 1 month. The fruit compote can be made 1 week ahead and refrigerated. Store completed cookies at room temperature in an airtight container, layers separated with parchment paper, for up to 5 days. 
Yield: 24 2″ bars