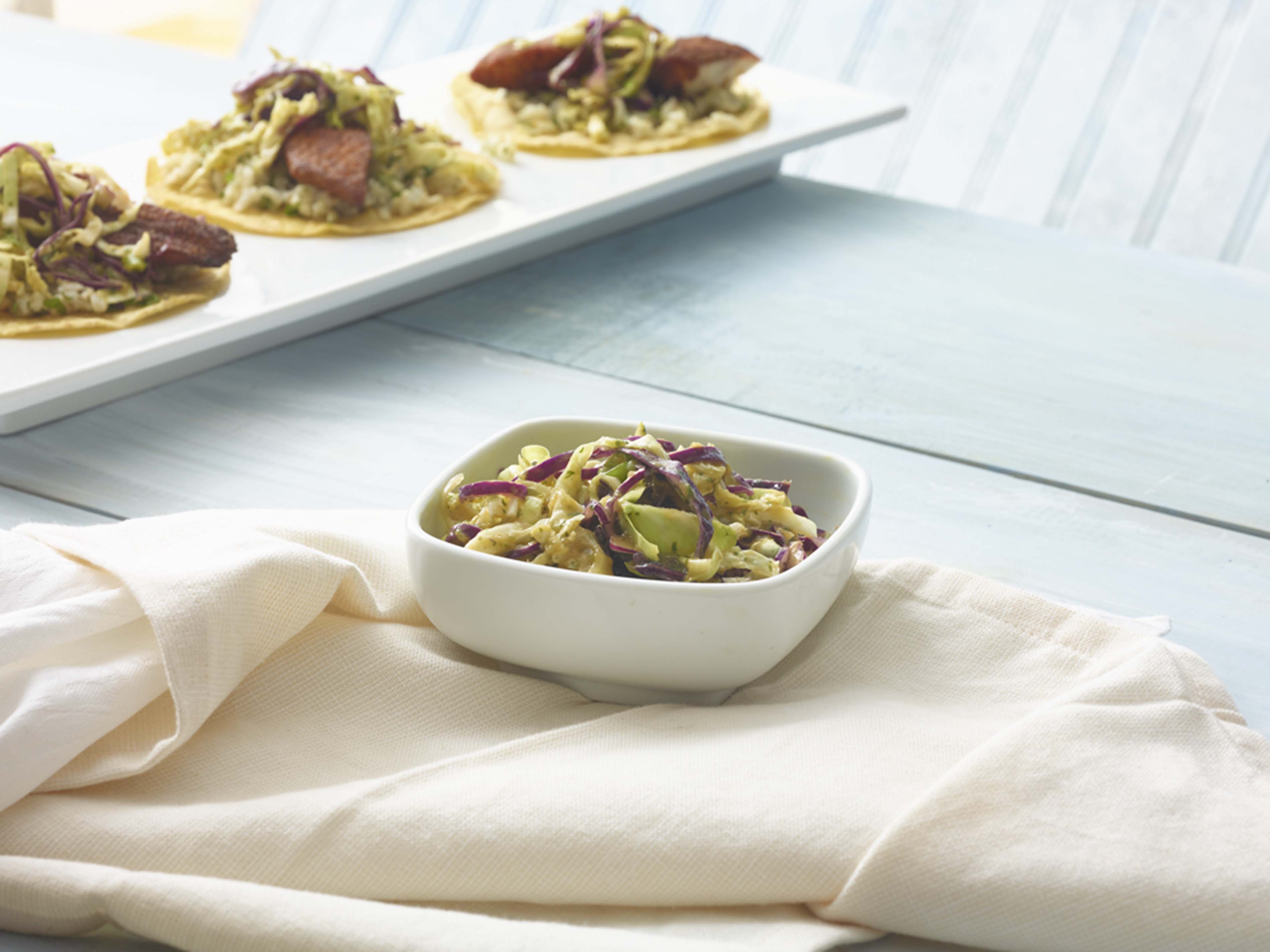 Servings: 6 
Salmon
1  2 ½ to 3 pound salmon filet, whole or cut into 6 8-ounce servings, or steelhead 
1  tablespoon coriander seeds 
1  tablespoon whole black peppercorns 
1  tablespoon black or yellow mustard seeds 
2  teaspoons juniper berries 
1  teaspoon fennel seeds 
2  teaspoons brown sugar 
2  teaspoons garlic powder 
1  teaspoon onion powder 
½  teaspoon smoked or regular paprika 
¼  teaspoon ground cloves 
½  teaspoon kosher salt 
Mango Coleslaw Dressing
1 large ripe mango, peeled and cut into 1-2 inch pieces (frozen is fine, or use frozen peaches)
2 tablespoons finely chopped red onion 
3 tablespoons lime juice 
1 teaspoon apple cider vinegar 
2 tablespoons oil (avocado, sunflower or safflower)
1/2 cup loosely packed cilantro leaves (or basil, parsley or any herb) 
1 teaspoon honey 
1/2 large green chili pepper, such as jalapeño 
1/4 teaspoon salt 
1/4 teaspoon black pepper 
Salad
2 cups shredded red cabbage, about 1/2 small head, 
2 cups shredded green cabbage, about 1/2 small head 
2 cups shredded Napa cabbage, about 1/3 head 
4 scallions, ends trimmed, sliced 
For the Salmon: 
Place the coriander seeds, black peppercorns, mustard seeds, juniper berries, and fennel seeds into a coffee grinder or food processor and grind them into small pieces (making sure none are left whole), but not completely into a powder.
Transfer the ground spices into a small bowl. Add the brown sugar, garlic powder, onion powder, paprika, cloves, and salt, and mix well. 
Place the spice mix on a plate and press each slice of salmon into the mix to cover it completely. If the salmon has skin, roll the sides and top with the spices. If using one large piece of salmon, rub the spices on top. 
Use up all of the spice mix. Place the fish on a roasting pan, leaving space between the pieces. Let the fish sit at room temperature for 15 minutes, while you preheat the oven to 400°F.
Bake the salmon for 20 to 22 minutes (20 minutes if you like it a little pink inside, longer if you want it fully cooked). Serve the fish hot or at room temperature. 
Serve topped with the Mango Coleslaw:
To make the dressing, place the mango, red onions, lime juice, vinegar, oil, cilantro, honey, chili pepper, salt, and black pepper into the bowl of a food processor. 
Process until puréed; it will be a yellow sauce with green specks. 
To make the salad, in a large bowl, place the shredded cabbages and scallions and toss. Add half of the mango dressing and mix well. Add more dressing, until the cabbage is well-coated. 
Jane's notes:
You can also use one type of cabbage.
Fantastic flavor and ideal for Weight Watchers. 
MUST be served with the Mango Coleslaw. 
Can leave some of the fruit (from the dressing) in a small dice to add at the end. 
Even better cold or room temperature. 
Source: Paula Shoyer