We know where we've been, let's talk about where we are going!
Congregation Am Haskalah invites you to join a series of events exploring the future of American Judaism.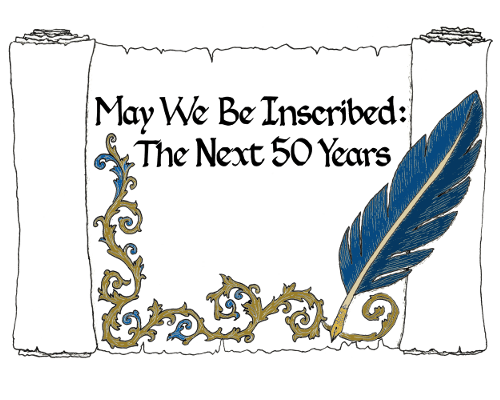 From October through May we will be hosting Continuing Education classes, Discussion Groups, an Open Mic Night, and more!
A Year-Long Chevrutah
In Jewish tradition, chevrutah is a form of study where two students work together to understand scripture, asking each other questions and challenging each other's ideas.
Few of us have access to traditional learning any more, but that doesn't mean we can't still learn with and from each other.
As a Reconstructionist synagogue, we recognize that American Judaism as it is today, is not what American Judaism will look like for our future generations.
What might it look like? What dangers will we face? What opportunities? What our are hopes and how can we achieve them? What are our fears, and how can prepare for them?
This is the subject of our chevrutah.
Open to All
We invite all Jews and Jewish organizations of the Lehigh Valley to join us in this chevrutah. Allies are also welcome to get involved.
Would you be interested in taking part in a discussion group? Leading a discussion group? Sharing your music at an open mic night?
Would your organization like to put on your own Inscribed events or partner with Am Haskalah to create larger events?
We love to have you!
Contact us to talk about how you can get involved or
Fill out the form below to receive email updates on the Inscribed Project:
___________________________________
Event Schedule
Continuing education classes
History of American Judaism, October 23rd at 1pm   As Dr. Carl Sagan once said, "You have to know the past to understand the present." It follows then that to imagine our future, we must understand both.
From its tense beginnings as part of Dutch colonialism, to becoming a key part of our country's cultural and political landscape, American Judaism is a story of coming to understand what it means to live, struggle, and even thrive in multiple cultures.
Join us for an introduction to American Judaism on one foot as we "kick off" a new year of learning!
Taught by Student Rabbi Alex Malanych, online and in-person (Bethlehem, PA)
To RSVP or request accommodations, email [email protected].
History of Reconstructionist Judaism, November 13 at 1pm
with Rabbi Armin Langer.
To RSVP or request accommodations, email [email protected].
Discussion Groups
November – December 2022
Am Haskalah will host 1-5 discussion groups depending on interest level. Dates will be determined soon. Proposed Discussion topics include:
Marginalized Voices
Evolving Gender Roles
Impact of Assimilation
Torah uMaddah in 50 years
Rise of Antisemitism
Jewish Intentional Communities — good idea/bad idea?
Gen Z Voices
Interested in the Discussion Groups? Fill out our quick 3-question survey to tell us what topics you're interested in in and what times you are available.
Other Events
Open Mic Night: January 2023
Other events/classes/discussions: February – April 2023
Help Us Celebrate
Am Haskalah's 45th Anniversary Celebration with Rabbi Panel and Auction – May 2023
Inscribed was partly inspired by Am Haskalah's 45th anniversary. We will end our chevrutah in May with a 45th Anniversary Celebration, including a rabbinic panel discussion pulling together past, present, and future, and an auction.